Mission-Critical Quality and Reliability
EaglePicher Technologies is committed to achieving the highest level of customer loyalty by delivering reliable, mission-critical battery solutions and services. We attain this through:
Commitment to ZERO quality defects
Uncompromising focus on process execution
Achieving superior, measurable results through continuous improvement
Quality Certifications
At EaglePicher, our hardware production is supported by industry-leading quality systems that ensure an uncompromising focus on process execution and continuous improvement. Our systems meet or exceed all applicable industry regulatory requirements. Our defense and aerospace facilities are ISO 9001:2015 and AS9100D certified.
AS9100
This aerospace standard is based on the ISO 9001 quality system requirements. AS9100 supplements the ISO 9001 requirements with additional requirements established by the aerospace industry to meet DoD, NASA and FAA quality requirements. AS9100 is the result of an international effort to establish a single quality management system for the aerospace industry.
EaglePicher's AS9100 certificates:
AS9100:D and ISO 9001:2015 - EaglePicer, Lithium ion/Crossroads - 8230 East 23rd Street, Joplin, Missouri, 64804, United States
AS9100:D and ISO 9001:2015 - EaglePicher, 2000 South County Trail, East Greenwich, Rhode Island, 02818, United States
AS9100D certification denotes that EaglePicher conforms to the high quality requirements of the standard and operates in a manner that promotes continuous process improvement in the design and manufacture of specialty-purpose batteries and energetic devices for aerospace applications.
In-House Testing Capabilities
At EaglePicher, development and production projects require diversified testing capabilities. Several test areas are equipped with state of the art systems which can accomplish most any type of environmental, chemical, electronic and dynamic testing. Eagle Picher enjoys the benefit of a dedicated Electronics Group capable of the design and fabrication of unique peripheral devices to meet constant current, constant power, and constant resistance load requirements along with very high speed data acquisition and computer controlled test systems. Eagle Picher has the resources and personnel dedicated to a wide variety of test capabilities providing the expertise required to improve product design and meet the procedural requirements of our customers.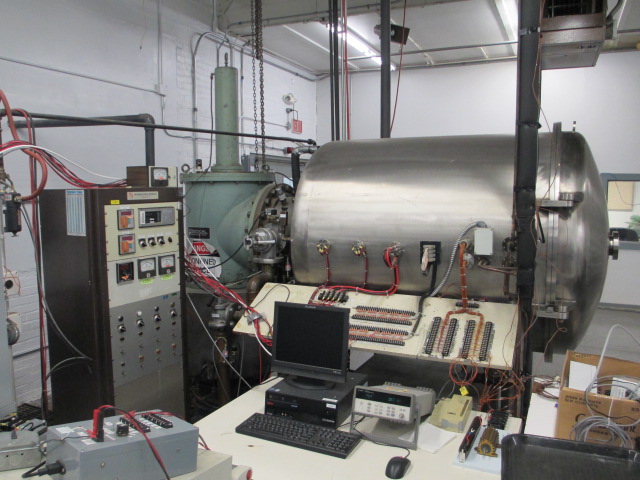 These capabilities include:
Vibration testing
Shock testing
Altitude testing
Acceleration testing
Temperature and humidity testing
Li Ion conditioning
Analytical Laboratories
EaglePicher's analytical labs have the capability to fully characterize materials with analytical chemistry techniques and equipment such as DSC, TGA, LFA, BET, Particle Size Analyzers, ICP-MS, MP-AES, SEM with EDS, and calorimeters. The analytical labs are responsible for testing raw, in-process, and finished materials as well as supporting failure analyses and the development of new materials. The labs are devoted to providing the most accurate test results to ensure the highest quality materials are used in EaglePicher's batteries.