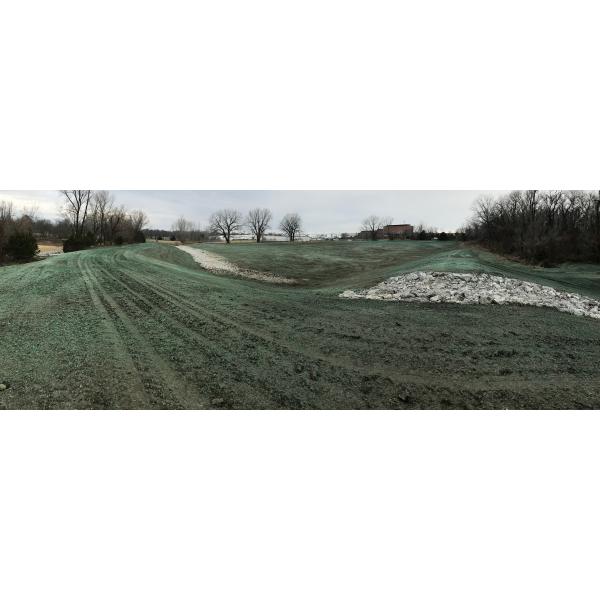 Capital investment includes storm water detention pond and stream bank stabilization at Lone Elm Creek. 
Joplin, MO, February 26, 2019 - EaglePicher Technologies, a leading provider of battery power solutions, has made a significant investment in the environment around its C Street facility in Joplin as part of its effort to be a positive community citizen. Working in coordination with the U.S. Army Corps of Engineers, the Missouri Department of Natural Resources and the City of Joplin, the company has taken steps to reduce storm water flooding from Lone Elm Creek near the facility.
Aaron Rice, EaglePicher's director of environmental health and safety, says the company decided to take a proactive approach to meet environmental compliance and improve the local community by implementing much needed storm water management. The company invested over $1 million to control storm water runoff, significantly improving the City of Joplin's Flood Management Plan.
 
Rice explained that the project includes two sequential storm water retention basins that will capture and passively treat effluent from the EaglePicher site. The basins will mitigate potential flooding from Lone Elm Creek during most precipitation events. "As constructed, the pond has the capacity to hold storm water runoff equal to that of a 25-year flood event," Rice added.
 
In addition to the detention pond, the EaglePicher project repaired and modified the stream bank along Lone Elm Creek to prevent erosion and assist with flood management. A variety of native grasses, shrubs and trees were planted along areas where erosion had occurred. Rice said, "Not only will the new vegetation act to naturally stabilize the stream banks, the work we have done will provide new habitats for birds and wildlife."
 
Rice noted, "EaglePicher works to be a full partner to the communities where we are located and where our employees and their families live."
About EaglePicher Technologies
EaglePicher Technologies, designs, develops and produces mission-critical power solutions. EaglePicher is an industry leading producer of batteries, battery management systems and energetic device. For over 75 years, the company has served highly demanding requirements for defense, aerospace, aviation and commercial battery applications. As the leading provider of thermal battery systems, to the Department of Defense, EaglePicher supplies power to the majority of the U.S. military's missile and precision guided munitions systems. EaglePicher's space heritage dates to the earliest days of the U.S. space program, from the first satellite to the Mars rovers. The company has provided lithium-ion batteries to military aircraft and high altitude unmanned aerial vehicles. EaglePicher also developed the first human-implantable lithium-ion battery. The company has nine North American manufacturing and research and development sites and over 900 employees. For more information, please visit www.eaglepicher.com.
Media Contact:
Heather Smriga
Marketing Communications Manager
Phone: 417-629-6581
Email address: heather.smriga@eaglepicher.com