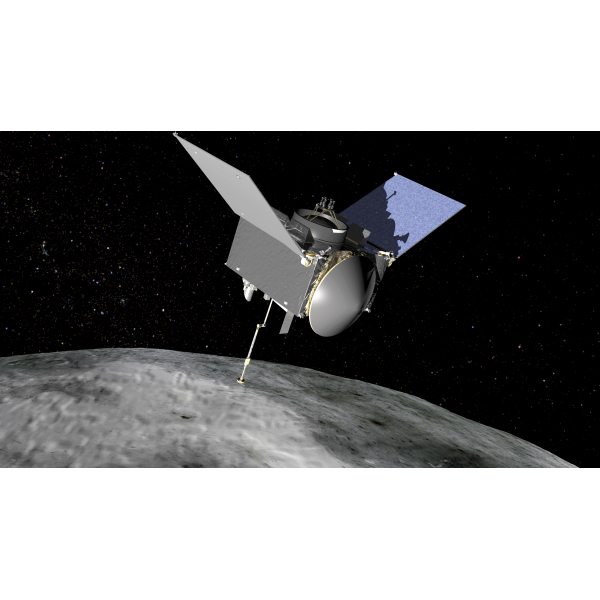 December 13, 2018 - When NASA's OSIRIS-REx launched into outer space in 2016, EaglePicher® Technologies batteries helped power the launch. Now, two years and 1.2 billion miles later, the OSIRIS-REx spacecraft has reached its destination, the asteroid Bennu. EaglePicher batteries have been at work throughout the trip powering onboard electronics.
The OSIRIS-REx (Origins, Spectral Interpretation, Resource Identification, Security-Regolith Explorer) launched on September 8, 2016 with a mission to rendezvous with the near-Earth asteroid, Bennu, study it and return an uncontaminated sample. EaglePicher silver zinc batteries powered the on-board electronics of the launch vehicle. Two of the company's 28 volt, 30 amp-hour lithium-ion batteries support the flight and mission operations. These batteries include integrated battery management electronics and heaters needed to operate in the extreme cold of deep space.
According to NASA, scientists think that asteroids like Bennu "may have been a source of water and organic molecules for the early Earth and other planetary bodies." By analyzing an actual sample from Bennu, they hope to gain a deeper understanding of how planets formed as well as learn more about asteroids that could impact Earth.
OSIRIS-REx will operate in proximity of Bennu for approximately 19 months, mapping the asteroid to determine the best location for sample collection. Bennu will make a sample collection in 2020 and then take advantage of a 2021 departure window to begin its return flight. Once it reaches Earth in 2023, two 8-cell lithium primary batteries will power the sample return capsule that will separate from the main craft and enter Earth's atmosphere.
EaglePicher Chief Executive Officer Gordon Walker says that supporting space missions like this one is exciting work for everyone at the company. "We've been supporting NASA missions for nearly 60 years. We all feel a deep sense of connection to space exploration and are excited to continue helping with future missions and discoveries."
To learn more about how EaglePicher Technologies products are used in satellite and spacecraft missions, visit www.eaglepicher.com/markets/space. To learn more about the OSIRIS-REx mission, visit www.asteroidmission.org/mission.
Image courtesy NASA/Goddard Space Flight Center
About EaglePicher
EaglePicher Technologies, designs, develops, and produces mission-critical power solutions. EaglePicher is an industry leading producer of batteries, battery management systems and energetic devices. For over 75 years, the company has served highly demanding requirements for space, aviation, defense, and commerical battery applications. As the leading provider of thermal battery systems to the Department of Defense, EaglePicher supplies power for the majority of the U.S. military's missile and precision guided munitions systems. EaglePicher's space heritage dates to the earliest days of the U.S. space program, from the first satellite to the Mars rovers. The company has provided lithium-ion batteries to military aircraft and high altitude unmanned aerial vehicles. EaglePicher has nine North American manufacturing and research and development sites and employs over 900 team members. For more information, please visit www.eaglepicher.com.
Media Contact:
Heather Smriga
Marketing Communications Manager
Phone: 314-797-8605
Email: heather.smriga@eaglepicher.com